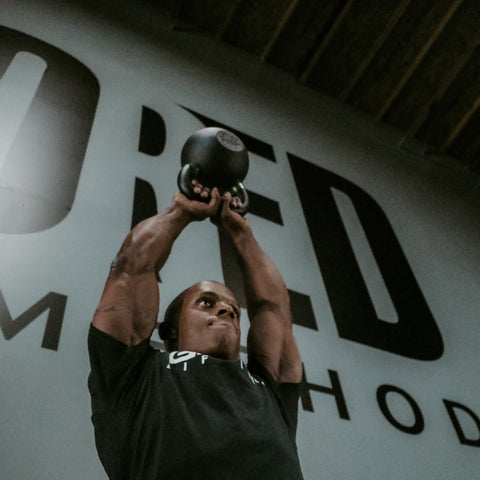 GIANT V3 Kettlebells
Checking availability
$16.20
$18.00
you save $1.80
PRODUCT DETAILS:



Giant Lifting's kettlebells are die gravity casted which means molten iron is poured from above into our metal molds. Some manufacturers use sand casting which means the kettlebells can have rougher surfaces, less accuracy with the weight, and lower overall strength. 

We don't add any fillers to cheapen the product which potentially leads to cracking in the future. Once the mold is poured and dried there are excess edges that require the manufacturer to grind down to create a smooth finish around the handles and base of the kettlebell.
This allows for a smoother handle and a flat base required for varying exercises. There are easy color coating markers along the handles to find your desired weight.
Available Sizes: 4KG, 6KG, 8KG, 12KG, 16KG, 20KG, 24KG, 28KG, 32KG, 36KG, 40KG,
Additional Information: All kettlebells show both weight indicators in kilograms and pounds "KG/LB."
SPECIFICATIONS
Brand - GIANT
Color - Black, Colored Striping
Material - Cast Iron, Black Powder Coat
9lb/4kg Handle Diameter - 30mm
13lb/6kg Handle Diameter - 30mm
18lb/8kg Handle Diameter - 32mm
26lb/12kg Handle Diameter - 32mm
35lb/16kg Handle Diameter - 33mm
44lb/20kg Handle Diameter - 38mm
53lb/24kg Handle Diameter - 39mm
62lb/28kg Handle Diameter - 40mm
70lb/32kg Handle Diameter - 40mm
Frequently asked question
Please allow 3-5 business days for processing orders prior to shipping. Items that are back-ordered and arriving for in-stock pre-orders may take up to 14 days to process and ship. Our "In-Stock" items or items becoming available for pre-order reflect a time frame that we expect to have that product(s) at our warehouse. This time frame does not include shipping estimations. We work diligently to receive and ship as fast as possible and we process our shipments in the order they are received. Our shipping carriers can take between 1-5 days to receive your package. Freight services can take 1-2 weeks.
*Circumstances like weather, holiday schedules, and other situations out of our control can affect this timeline. shipping policy.
Timeframe
Orders are delivered between 5-14 days from your date of purchase.  Generally, we deliver during the first and third week of each month.
Where We Deliver
Delivery will be an option at checkout if it is available to you. Routes are from Seattle to Olympia in general.
Areas on the delivery route include:
Auburn, Bonney Lake, Bothell, Edgewood, Everett, Federal Way, Fife, Issaquah, Kent, Lacey, Lakewood, Lynwood, Marysville, Milton, 
Olympia, Puyallup, Redmond, Renton, Seattle, Sumner, Tacoma.
Pricing
We do a route system with multiple customers with each delivery route to make it cheap for you to receive your equipment. ($39.99-$99.99)
Day of Delivery
For orders over $500: We will send an email 1-3 days in advance and require someone to be present to receive the order. 
For orders under $500: We will send an email confirmation that we have delivered your products.
Questions/Contact Us
Email team@giantlifting.com with questions and more accurate timelines, visit our store, or call us at 253-355-3400.
In the event, you would like to return an item or an order, please reach out to team@giantlifting.com. You may return items that are unopened and in new condition within 30 days for store credit or a full refund (Orders over $1,000 will be subject to a 3% credit card processing fee deducted from the total refund).
Kettlebells
Great set of kettlebells for a great price. This is the 4th set I have purchased from Giant and have never been disappointed.
Does what it's supposed to
I did not try weighing it to make sure it was the correct weight, lol, but feels about right. I have 3 or 4 Giant's KB I like them. I like the simplicity and the splash of color to tell them apart. I have a couple that are not Giant brand and they have shiny coating on them that is fine and it works but I do t like the look as well
The best
Giant Lifting is the best !!!! But he prices are great and the quality is amazing. Customer service is fantastic as well. Look forward to getting more weights soon!!
Great Stuff
Bought many plates and bars from Giant, and this is first kb. No surprise it's as top-notch as every other product I've purchased.