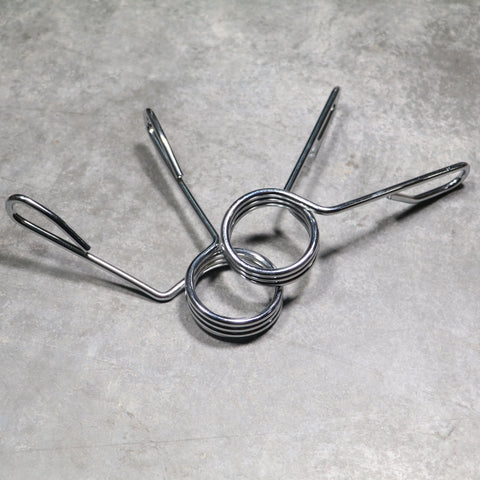 GIANT Spring Collars
Checking availability
The simple, proven way to keep your weights from sliding off your barbell.  
Check out the key features below.
FEATURES:
FINISHING- Normal chrome surface. Spring steel
SPECS-
2 spring collars included
Normal chrome surface, spring steel
1 year warranty*
Barbell Collars
Simple good collars. Easy to squeeze so both my wife and I had no problems.
Great Company with Quality Fitness Gear
I have purchased many items during these last few months from Giant getting my home gym put together during this pandemic. These guys are great with communicating updates for items and they were attentive to any questions I had about any of my orders or products they sell. I have bought about 3 barbells from them, a full bumper plate set, bands, ab mats, collars, and more to come. They have quality gear and are a great team. I look forward to buying more from them to outfit my home gym needs.
Great
Great products and great customer service! Met the owner when I picked up my items and had a pleasant time. I ordered a Olympic bar, pair of 45 lbs plates and clips. Which got upgraded to better ones free of charge! Thanks giant lifting!!
Great bumper plates
I bought a set of bumper plates from Giant Lifting and they're perfect. I'm looking forward to buying more from them.