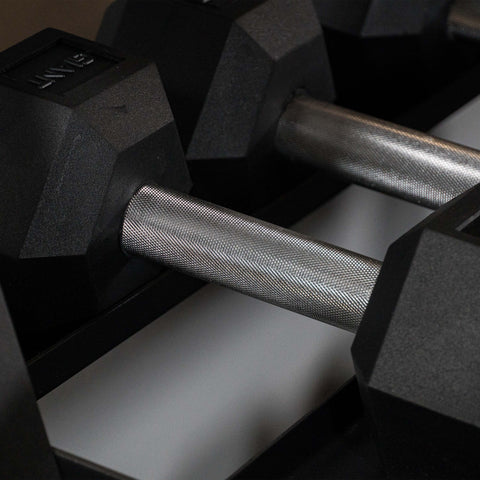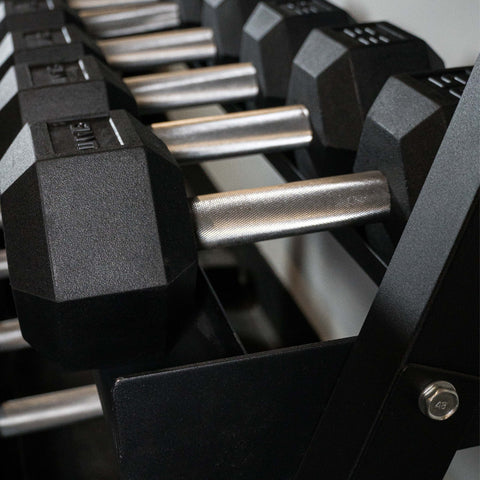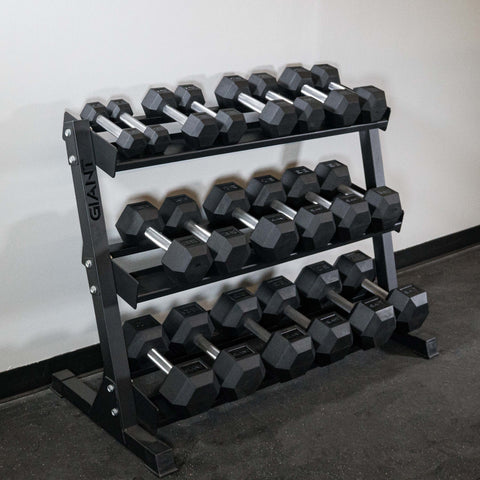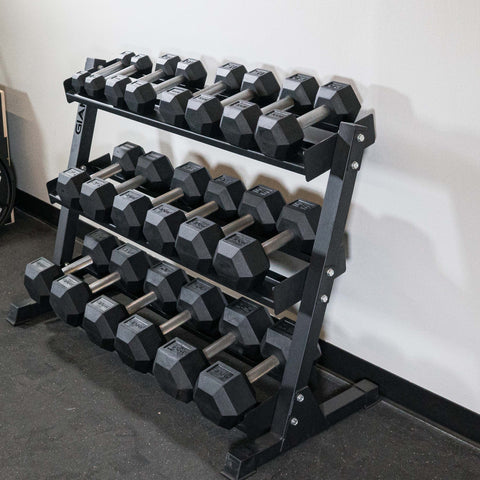 GIANT Rubber Hex Dumbbell Sets - Straight
Checking availability
PRODUCT DETAILS:


Giant Lifting dumbbells are available in sizes 5lb-100lb and sold in pairs. Hex Rubber Dumbbells are an essential element of any strength training regimen. Low-odor, the hex-style dumbbells are one of our best-selling products. 
The six-sided rubber encased dumbbells are constructed with durable steel chrome and easy to grip knurled handles. The contoured handles provide a comfortable grip (5-10lb, 28mm)(15-100lb, 34mm). Rubber encase heads will help reduce noise and protect your floors and equipment.
 Six-side design helps prevent rolling and is easy to stack. These durable dumbbells are built to last; they are perfect for home gyms and commercial gym use. 
*Dumbbell Rack not included.*
Additional Information: Each set includes pairs in every 5lb increment. *Rack for dumbbells sold separate.
5-50lb (550lb's) set includes: 5, 10, 15, 20, 25, 30, 35, 40, 45, and 50lb pairs.  

55-75lb (650lb's) set includes: 55, 60, 65, 70, and 75lb pairs.

80-100lb (900lb's) set includes: 80, 85, 90, 95 and 100lb pairs. 

SPECIFICATIONS
Brand - GIANT
Material -
Premium rubber mixture with extremely low odor.         
Color - Black
Handle Diameter - 28mm (5lb/10lb) 34mm (15lb-100lb)
Sold In - Sets, Pairs
Frequently asked question
Please allow 3-5 business days for processing orders prior to shipping. Items that are back-ordered and arriving for in-stock pre-orders may take up to 14 days to process and ship. Our "In-Stock" items or items becoming available for pre-order reflect a time frame that we expect to have that product(s) at our warehouse. This time frame does not include shipping estimations. We work diligently to receive and ship as fast as possible and we process our shipments in the order they are received. Our shipping carriers can take between 1-5 days to receive your package. Freight services can take 1-2 weeks.
*Circumstances like weather, holiday schedules, and other situations out of our control can affect this timeline. shipping policy.
Timeframe
Orders are delivered between 5-14 days from your date of purchase.  Generally, we deliver during the first and third week of each month.
Where We Deliver
Delivery will be an option at checkout if it is available to you. Routes are from Seattle to Olympia in general.
Areas on the delivery route include:
Auburn, Bonney Lake, Bothell, Edgewood, Everett, Federal Way, Fife, Issaquah, Kent, Lacey, Lakewood, Lynwood, Marysville, Milton, 
Olympia, Puyallup, Redmond, Renton, Seattle, Sumner, Tacoma.
Pricing
We do a route system with multiple customers with each delivery route to make it cheap for you to receive your equipment. ($39.99-$99.99)
Day of Delivery
For orders over $500: We will send an email 1-3 days in advance and require someone to be present to receive the order. 
For orders under $500: We will send an email confirmation that we have delivered your products.
Questions/Contact Us
Email team@giantlifting.com with questions and more accurate timelines, visit our store, or call us at 253-355-3400.
In the event, you would like to return an item or an order, please reach out to team@giantlifting.com. You may return items that are unopened and in new condition within 30 days for store credit or a full refund (Orders over $1,000 will be subject to a 3% credit card processing fee deducted from the total refund).
Great dumbbell set & great service!
Really great set of 5 - 50 lb dumbbells! Here's a photo of the tiny set they replaced!
The FedEx guy and I were both surprised at how well the pallet was wrapped & shipped. I had an odd request to delay the shipping until I was back from vacation, so Giant adapted the shipping date nicely.
There's the normal rubber smell from new equipment, but in my experience that's always the case and not a negative point at all. I've kept my home gym fan running for several days, and the smell is disappearing already.
Great product
I am very happy with my dumbbells. They are true to weight and high quality. The company resolved the minor issue that I had with my shipment with no complaints and have been very easy to deal with.
Dumbbells and rack
Great service and staff is very accommodating. Website is very new and needs polishing but very satisfied with product and staff. Will order again!
T. deBord
Dumbells
Top tier dumbells. Love the grip style vs the anatomic. Excellent company with excellent products
Best dumbbells on the market!
Can't go wrong with these. Will be purchasing the next set soon. #Getting stronger