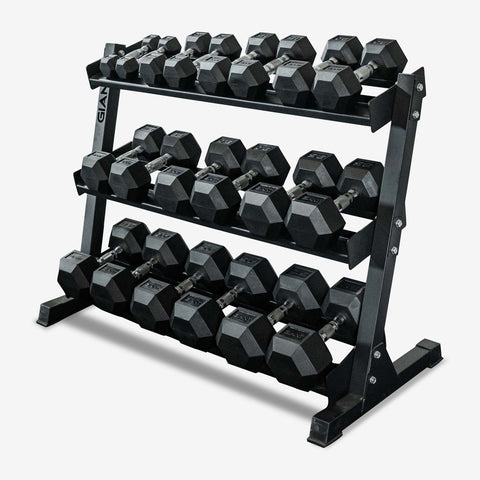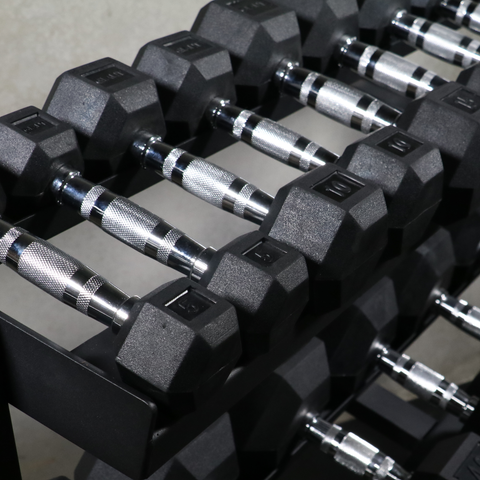 GIANT Rubber Hex Dumbbell Sets - Ergonomic
Checking availability
PRODUCT DETAILS:
Giant Lifting dumbbells are available in sizes 5lb-100lb and sold in pairs. Hex Rubber Dumbbells are an essential element of any strength training regimen. Low-odor, the hex-style dumbbells are one of our best-selling products. 

The six-sided rubber encased dumbbells are constructed with durable steel chrome and easy to grip knurled handles. The contoured handles provide a comfortable grip (5-10lb, 28mm)(15-100lb, 34mm). Rubber encase heads will help reduce noise and protect your floors and equipment.
Six-side design helps prevent rolling and are easy to stack. These durable dumbbells are built to last and are perfect for home or commercial gym use. 
*Dumbbell Rack not included.*
Additional Information: Each set includes pairs in every 5lb increment. 
5-50lb (550lb's) set includes: 5, 10, 15, 20, 25, 30, 35, 40, 45 and 50lb pairs.  
55-75lb (650lb's) set includes: 55, 60, 65, 70, and 75lb pairs.
80-100lb (900lb's) set includes: 80, 85, 90, 95 and 100lb pairs. 
SPECIFICATIONS
Brand - GIANT
Material -
Premium rubber mixture with extremely low odor.         
Color - Black
Handle Diameter - 28mm (5lb/10lb) 34mm (15lb-100lb)
Sold In - Sets, Pairs
Friendly and helpful service
I love going into the Tukwila store. Every time the employees are awesome. The equipment is high quality. Supporting a local business is a big plus.
Dumbells
Just received my 5 and 10 lb. dumbells! I love them. They are exactly what I wanted. Easy to grip. Made well. I will be ordering more to add to my collection.
Quality Equipment
I've purchased dumbbells twice from the Goodyear location, and have found the quality of this equipment to be top notch, especially at this price point. The staff at the store is very amenable to being available when work and other pursuits allow me to make the 1.5 hrs drive from my home. Having had the opportunity to check out the other types of equipment they stock, I know this will be the only place I will make all future purchases from.
R.Curtis
Sturdy
Very great set. No regret
Great handle design, and coating.
I really like the rubber coated hex dumbbells, and I bought the 20 and 40 pound weights from Giant. They are sturdy and symmetrical, and have an easy to hold grip. Plus, this is a great price for a pair. You won't find cheaper at the chain stores, and I doubt you'll find the same quality -one place wanted 57 bucks EACH for the 20lbs. Happy they're a local option for equipment!