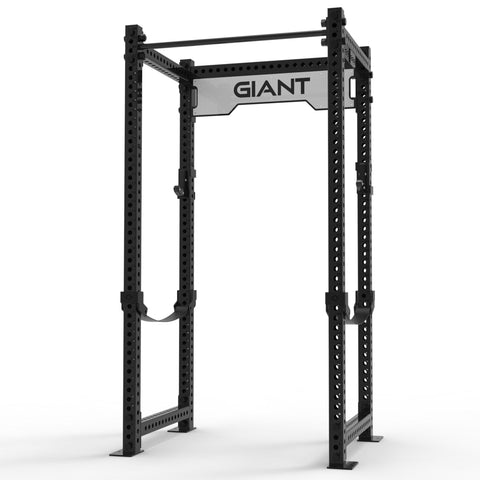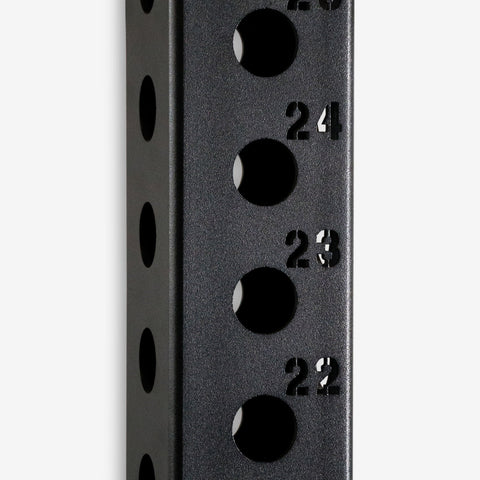 Giant Lifting
GIANT BD3X Power Rack
Checking availability
$819.99
$899.99
you save $80.00
PRODUCT DETAILS:


The Giant Lifting Power Rack BD3X - 3 Series boasts a new sleek detail that would look perfect in your at-home gym or commercial setting. The design includes a robotically welded frame with laser-cut technology throughout the rack's entirety. A black matte powder coat, laser-cut numbers for every hole, and the Giant logo plate make this rack desirable. 
The logo plate helps add stability to the already heavy-duty rack. The 3X series also has many opportunities for adding different attachments, including jammer arms, weight pegs, and landmines. The Competition 3X J-cups and Safety Straps are included with the purchase.  

SPECIFICATIONS
Brand - GIANT
Length - 36"
Width - 48"
Height - 92"
Workspace - 30"x48"X92"
Steel Notes - 11-gauge, 3"x3"
Hole Spacing - 2"
Hole Size - 1"

Squat with certainty, high strength safety straps included

Many options to add attachments to the rack from dip bars, landmines, etc. 

Plastic-line high strength J-Cups to keep that barbell looking fresh

Logo plate included for a sharp look to your new rack
Just do it, you won't regret it
This is a heavy duty rack. I'll never need to upgrade again. Fantastic price, functionally similar to other brands that cost 3x or more.
Love the local pick up option, the guys working at the tukwila location were fantastic and loaded a bunch of stuff into my small sedan.
I hope to be back in a couple months when I outgrow my current weights.
Love my six post rack! Pretty easy build, took me a couple hours to build solo but I had to get help to install the faceplate as that thing is a beast.
Giant Power Rack
Great piece of equipment, easy to put together, the only real issue was the directions, they need an upgrade to help put it together. Other than that, very sturdy…. Plan to have for the rest of my life!
Excellent
Well worth the money the quality of the welds the ease of putting the rack together combined make this rack well worth the investment Highly recommend Giant. They have quality products and exceptional customer service.
Greatest fitness purchase I have ever made!
Purchased back in December and have had many workouts on this rack. Not once do I not smile when I see this in my backyard. Pictures do no justice to the rack, in person it is an absolute beauty. The spotter straps are a solid addition to the rack, I tend to squat heavy and every time I've had to bail the straps just catch the bar with no drama. Absolutely keeps the knurling on my bar safe. Also the amount of attachments available to this rack is great and I cannot wait to see what more they have instore in the future. Giant has definitely made me regular customer with the quality of their equipment and solid employees ready to help you with any question you have. Shout out to Jordan for always being on top of everything and making my home gym journey a blast!