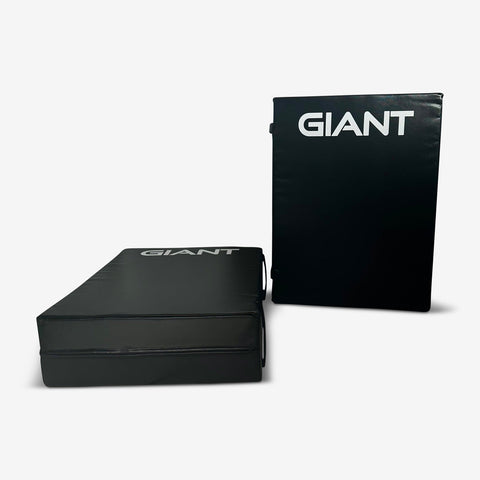 GIANT PNW Crash Pad
Checking availability
Cordura nylon, YKK zippers

PRODUCT DETAILS:



The Giant PNW Crash Pads feature commercial-grade heavy-duty Cordura nylon cover with YKK zippers. Perfect for dropping weights from overhead (make sure to follow down) or doing clean/snatches from an elevated position. The pads suppress the noise immensely, making it easier to not scare the neighbors. The crash pads come in pairs.

Additional Information: *New version has white-colored artwork.

 
SPECIFICATIONS:
| | |
| --- | --- |
| BRAND | GIANT |
| MATERIAL | Cordura nylon, YKK zippers |
| COLOR | Black, White artwork |
| LENGTH | 31.5" |
| WIDTH | 23.5" |
| HEIGHT | 8" |
| SOLD IN  | Pairs |
| WARRANTY | 1 yr |
Awesome crash pads
The pads are good and thick. I purchased them to protect my floor from deadlift drops and noise control. I have an unusual combo of a gym and giant fish tanks in the same room. The fish do not like the weight drop noise or vibration. These pads take care of that. I'm very happy I could buy them locally plus the staff at Giant Lifting were all super nice. I will be back for more gear from them.
Crash Pads
Awesome product, heavy duty construction and deadly silent bar dampening in my home garage.
Well worth it
They're great. High quality product for a great price. Customer service was awesome as well. Highly recommend.
Half rack
Very happy with it. Looking forward to a bunch of fun workouts with it.
Easy to put together by yourself, solid.
Buy these!
I purchased these crash pads for dropping the bar when my baby is sleeping. These are durable, keep their form, don't move around at all, and most of all almost completely silence the noise and vibration from dropping the bar.
These are very reasonably priced and the staff at Giant lifting is great. I'd highly recommend these crash pads and any other products Giant offers.
I have ALOT of Rogue equipment and now several items I've purchased from Giant. The quality is comparable but the price is substantially better at Giant. I can't think of anything I won't get at Giant instead of ordering from Rogue from now on.
Giant is local and their products are excellent, buy from Giant if you're considering purchasing gym equipment!!