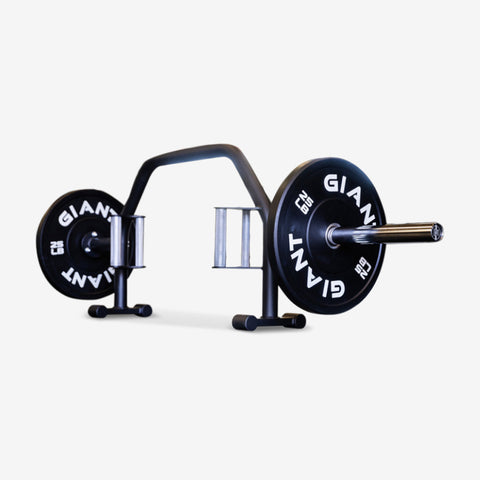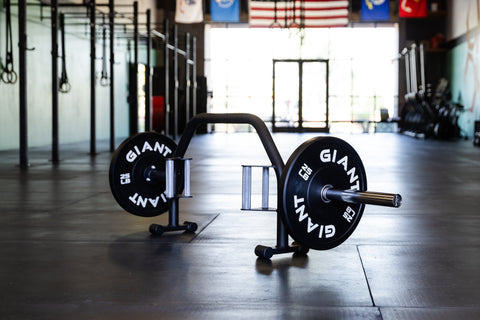 GIANT Northland Open Trap Hex Bar
Checking availability
PRODUCT DESCRIPTION
The Northland Open Trap Hex Bar is the next great weapon to add to your weightlifting arsenal! The fourth iteration of our open hex design features a built-in jack, upgraded solid steel feet for stability, hex bolt removable handles, and the ability to be racked on most standard-size power racks. 

There are several trap bars like this on the market with varying features that make each unique. We designed ours with the features we felt were most important while keeping the cost down and believe it's the best value on the market!
New Features:

Equipped with 28mm and 38mm knurled handles that are 25" on center allowing for more performance options.  
We upgraded the packaging to protect the different pieces of the barbell during transit. 
The most common use for this barbell is for deadlifts, pressing actions, walking lunges, farmer walk carries, safety bar squats, and bent-over rows.  The truth is you can get creative and the possibilities are endless with the use of this barbell.  We hope you love it!
Additional Information:

This barbell is made for dropping at lower heights when performing deadlifts, shrugs, carry's etc.  This bar is not made for dropping from overhead lifts or from a squat position.  
Tolerances can range +/- 3% of all specs. We do not recommend this barbell with use of competition bumper plates since the tolerances of competition plates (50.4mm) are very tight and could cause an issue. Regular iron plates and bumper plates will work perfectly. 
* New Update - Due to customer feedback, we changed our handles to fully knurled, fixed (non-rotating) and more aggressive volcano knurling on all new production.  
Existing V4 Open Hex Owners - If you are looking at upgrading the handles to our new style with aggressive volcano knurling and a center knurling markings click here. 
SPECIFICATIONS
Brand - GIANT
Bar Use - Specialty
Weight - 45lbs
Length - 85.25"
Handle Diameter - 28mm, 38mm
Loadable Sleeve Length - 16"
Sleeve Diameter - 50mm 
Loading Position Height - 23.75"
Frame/Shaft Length - 51.25"
Distance Between Handles - 25"
Jack Loading Capacity - 600lbs
Functional Weight Capacity - 800lbs
Knurl - Medium-depth
Shaft Coating - Black Powdered Coat
Great Addition to the Home Gym
Two workouts in and I have used the bar for deadlifts, shrugs, split squats, and lunges. Great product so far and see no reason why that won't continue. The bar feels substantial and balances well when loaded. Knurling on the handles is good and the center line is a nice touch. Only improvement I can think of would be to add UHMW to the bottom of the built in jack to protect floors.
Best trap bar in town
Pick up and assembly were too easy.
Bar is easy to load, unload, and use for lifters ranging from 5'7" down to 4'2" and in between. Knurling is aggressive but comfortable. You cannot beat this bar for the price. An excellent and welcomed addition to the garage courage corner. Well done, Giant.
Support your local small business and take this bar home.
Well made bar, incredible value.
This bar is solidly constructed out of high quality materials. I'm 6'3" and it feels super comfortable deadlifting, carrying, and squatting.
MUST BUY OPEN TRAP BAR
Picked this up in person in Arizona. Pulled the trigger once I saw Gluck and Coop reviews on YouTube. This V4 version well balanced, I don't have any issues with the bar rocking.
IMO when performing other workouts with this bar:
• Great damn Bar for Deadlefits, Farmers Carries, Lunges, Over Head Press.
• I have plenty of thigh space when performing squats with the handles lowering by my side.
• I do find it difficult to try Bench Press holding the bar from the center piece.
However this bar is intended for Deadlfiting and with that said. Is it built very well sturdy and smooth welds.
Just Buy It!