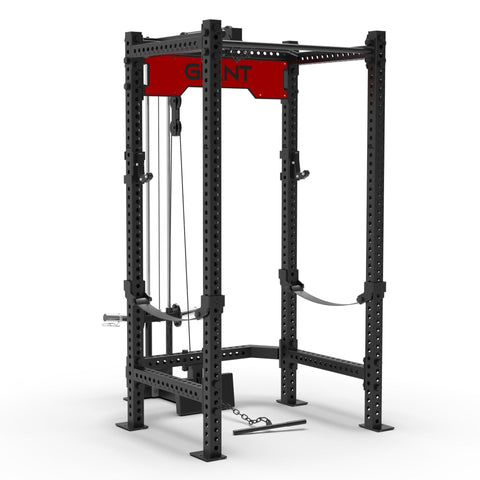 Giant Lifting
Checking availability
$431.99
$479.99
you save $48.00
PRODUCT DETAILS:


Giant Lifting's Lat & Row Attachment for the BD3X is designed to unlock new gym possibilities. There are many exercises you can add to your arsenal with this attachment. The lat and row machine is one of the best value-added decisions you can make for your home gym. 
This attachment has a 2:1 ratio meaning 20lbs loaded will feel like 10lbs resistance. The aluminum, upgraded pulley system leads to a smooth operator feel. The lat/row attachment comes with carabiners and loaded weight pegs suited for 2" diameter Olympic weight plates. The total weight capacity is 450lbs. Start building muscle by performing lat pulldowns, tricep pushdowns, curls, rows, etc. 
SPECIFICATIONS
Brand - GIANT
Depth - 38"
Added Depth to Rack - 27"
Height From Floor - 95"
Length from End of Pegs - 34"
Foot Rest - 8" Tall 16" Wide
Rear Base Stabilizer - 9.5"
Frequently asked question
Please allow 3-5 business days for processing orders prior to shipping. Items that are back-ordered and arriving for in-stock pre-orders may take up to 14 days to process and ship. Our "In-Stock" items or items becoming available for pre-order reflect a time frame that we expect to have that product(s) at our warehouse. This time frame does not include shipping estimations. We work diligently to receive and ship as fast as possible and we process our shipments in the order they are received. Our shipping carriers can take between 1-5 days to receive your package. Freight services can take 1-2 weeks.
*Circumstances like weather, holiday schedules, and other situations out of our control can affect this timeline. shipping policy.
Timeframe
Orders are delivered between 5-14 days from your date of purchase.  Generally, we deliver during the first and third week of each month.
Where We Deliver
Delivery will be an option at checkout if it is available to you. Routes are from Seattle to Olympia in general.
Areas on the delivery route include:
Auburn, Bonney Lake, Bothell, Edgewood, Everett, Federal Way, Fife, Issaquah, Kent, Lacey, Lakewood, Lynwood, Marysville, Milton, 
Olympia, Puyallup, Redmond, Renton, Seattle, Sumner, Tacoma.
Pricing
We do a route system with multiple customers with each delivery route to make it cheap for you to receive your equipment. ($39.99-$99.99)
Day of Delivery
For orders over $500: We will send an email 1-3 days in advance and require someone to be present to receive the order. 
For orders under $500: We will send an email confirmation that we have delivered your products.
Questions/Contact Us
Email team@giantlifting.com with questions and more accurate timelines, visit our store, or call us at 253-355-3400.
In the event, you would like to return an item or an order, please reach out to team@giantlifting.com. You may return items that are unopened and in new condition within 30 days for store credit or a full refund (Orders over $1,000 will be subject to a 3% credit card processing fee deducted from the total refund).
Replaced My Gym
Was searching for 8 months for a what to do with upgrading my Gym. Do I go with the company who advertises the most and is American (Rogue) or go with the second most popular garage gym companies that's a bit cheaper but not American (REP)?
And why can't other companies put metal together just as effectively? Then I wandered into Giant who has a sales office near by. The big selling point was the offices are local so any issues can be handled without shipping charges and wait times. I bought the 6 post rack + the Lat Attachment + weight posts + new mats.
The couple of things I needed resolved (which could happen with any shipped product), were identified on Saturday and On Tuesday were taken care of with a quick trip to the store. Jordan Ross was a great help and will be seeing me again in the future. The rack is sturdy and appears well made, the only changes I would consider with the Lat Attachment is your Single Arm Lat Raises aren't going to be practical unless you are already a monster because the base weight of the machine has to be in the 25-30lb range and if your newer to lifting you are probably only doing 10-15 pound single arm lat raises.
Great addition to my gym but...
The Lat & Row attachment is a solid addition to my power rack and have been very satisficed. Only issue I take is the rear stabilizer makes it that your rack is now incompatible with the front foot stabilizers. I like to use bands in the front of the rack so this was a little disappointing. The product is amazing but compatibility with other products Giant sells should work or at least warn us on their product page.