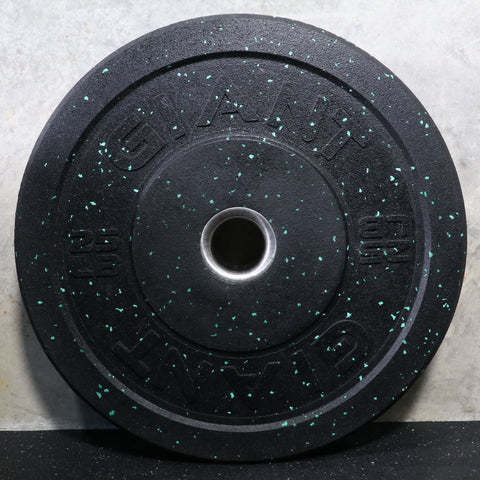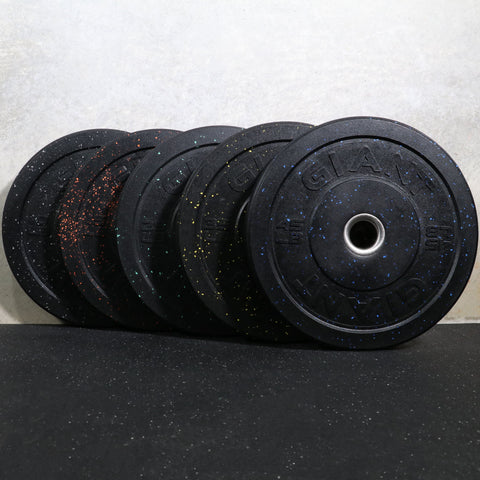 GIANT Crumb Bumper Plates
Checking availability
Slamming down the Giant Lifting Crumb Bumper Plates is the best way to celebrate your new personal best! The crumb bumpers feature softer rubber, more bounce and more protection for your floors. Softer rubber bumpers are made with 68-75 shore hardness allowing them to perform inside or outside. 
These plates are made to standard International Weightlifting Federation specifications at 17.7" diameter (450MM) with 2" (50MM) width steel inserts with recycled tire rubber with high-contrast fleck for each sizing. 
The durable bumpers feature a smooth finish, high quality, and the best pricing – as always! We only sell products we stand behind. The crumb bumpers are no exception. These plates are backed by our warranty and are a must-have for your weight room.
Additional Information:
We updated our crumb rubber plates to a smaller recycled crumb material for a cleaner finish. Our last version was made with a thicker crumb material chunk exterior.
Fleck colors allow for easy distinguishing:
45lb - Blue
35lb - Yellow
25lb - Green
15lb - Orange
10lb - Gray
SPECIFICATIONS
Brand - GIANT
Material - Recycled Rubber
Color - Black, Color Coated Rubber Fleck
Tested - Facility Tested, 10,000 drops/8ft
Tolerance - 10/25/35/45 +/- 3% of said weight
Diameter - International Weightlifting Fed Spec 450MM/17.7"
Insert - 50.4MM/1.98", Stainless steel
10lb Width - 1 1/4"
15lb Width - 1 5/8"
25lb Width - 2 3/8"
35lb Width - 3"
45lb Width - 3 1/8"
Hole Size - 2"
Warranty Home- Home- 3yrs (25/35/45) 6mo-(10/15) Commercial- 1yr (25/35/45) 6mo-(10/1)
Great plates
Nice plates, don't seem to scuff at all, great price. Very satisfied with the purchase