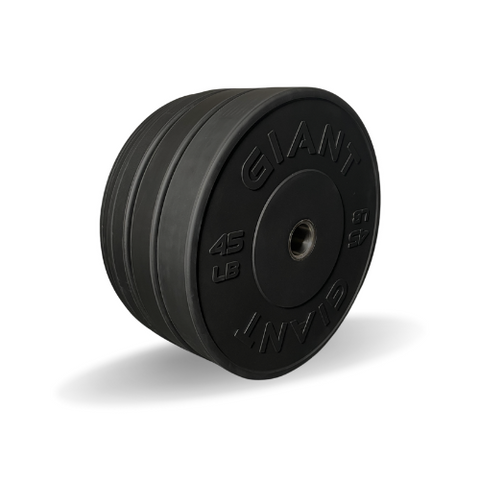 GIANT Black Bumper Plates
Checking availability
The Giant Lifting Black Bumper Plates are premium bumpers that are ideal for your home or commercial gym!
Same great quality as our Contrast Bumper Plates but in an all black aesthetic.
The Black Bumper Plates are made from a higher density rubber called Virgin Rubber. Virgin Rubber is harder than previous variations and has an extremely low odor. 
The rim of these bumpers are thinner which makes them easier to grip and move around your gym for your next PR.
The Black Bumpers Bumper Plates are a standard 450mm in diameter and boast a thinner cut than many competitors allowing you to stack more weight on the bar. 
We made the 10lb and 15lb pairs slightly smaller in diameter and when paired with the larger plates, they absorb less of an impact – giving them a long-lasting lifespan.  
Bottom line: the Black Bumper Plates are smooth, clean and built to last. We've increased our warranty and stand behind them to give you the peace of mind knowing this product will last for years to come. 
SPECIFICATIONS
Brand - GIANT
Material - Virgin Rubber and Stainless Steel Insert
Color - Black, Black Lettering
Tested - Facility Tested, 10,000 drops/8ft
Tolerance - 10/25/35/45 +/- 3% of said weight
Diameter - 450MM/17.72" (45/35/25) 445MM/17.51" (15/10)
Insert - 50.4MM/1.98", Stainless steel
10lb Width - 0.94"
15lb Width - 1.13"
25lb Width - 1.63"
35lb Width - 2.25"
45lb Width - 2.81"
Hole Size - 2"
Warranty Home- 3yrs (25/35/45) 1yr - (10/15) Commercial- 3yr (25/35/45) 1yr- (10/15)
Black bumper plates
Added more black bumper plates to the home gym. They look and function great.
Contrast Bumper plates
Nice looking bumpers at a great price. I've been happy with all the equipment I've bought from giant and the Saturday crew in bonney lake has been great to deal with for pick up.
Giant 45s
Sweet plates for big gains
Like the colored letters
So far so good. The plates are great looking and the folks where we picked them up were great. Love the customer service.
Good weights
These plates are nice. Slide smoothly on the bar. Quiet and don't clank around like irons. I like these plates.