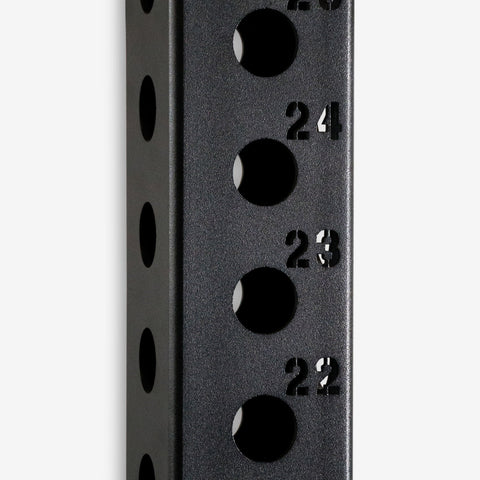 Giant Lifting
GIANT Half Rack 2.0 - 3X Series
Checking availability
PRODUCT DETAILS:


Giant Lifting's Half Rack 2.0 mirrors many of the features of our FBR. The GHR is equipped with a 3" x 3" frame and 11 gauge steel with 1" holes throughout the rack's entirety. 
Included with the purchase of the rack, are nylon competition-style three padded J-cups and triangle gussets for extra stability.

Secure the rack with our 1" monster black zinc hardware. 
*NEW: GIANT logo plate and multi-grip pull-up bar. 
Get ready, the GHR is unbelievably massive and checks all the boxes for commercial gyms and the serious home gym enthusiast. 

SPECIFICATIONS
Brand - GIANT
Length - 54"
Width - 48"
Height - 92"
Steel Notes - 11-gauge, 3"x3"
Hole Spacing - 2"
Hole Size - 1"
Weight Capacity - 1,000lbs

Collegiate Style Pull-Up Bar
Among the many accessories, included with this utility rack

Many options to add attachments to the rack from dip bars, landmines, etc. 

Plastic-line high strength J-Cups to keep that barbell looking fresh

Logo plate included for a sharp look to your new rack
Frequently asked question
Please allow 3-5 business days for processing orders prior to shipping. Items that are back-ordered and arriving for in-stock pre-orders may take up to 14 days to process and ship. Our "In-Stock" items or items becoming available for pre-order reflect a time frame that we expect to have that product(s) at our warehouse. This time frame does not include shipping estimations. We work diligently to receive and ship as fast as possible and we process our shipments in the order they are received. Our shipping carriers can take between 1-5 days to receive your package. Freight services can take 1-2 weeks.
*Circumstances like weather, holiday schedules, and other situations out of our control can affect this timeline. shipping policy.
Timeframe
Orders are delivered between 5-14 days from your date of purchase.  Generally, we deliver during the first and third week of each month.
Where We Deliver
Delivery will be an option at checkout if it is available to you. Routes are from Seattle to Olympia in general.
Areas on the delivery route include:
Auburn, Bonney Lake, Bothell, Edgewood, Everett, Federal Way, Fife, Issaquah, Kent, Lacey, Lakewood, Lynwood, Marysville, Milton, 
Olympia, Puyallup, Redmond, Renton, Seattle, Sumner, Tacoma.
Pricing
We do a route system with multiple customers with each delivery route to make it cheap for you to receive your equipment. ($39.99-$99.99)
Day of Delivery
For orders over $500: We will send an email 1-3 days in advance and require someone to be present to receive the order. 
For orders under $500: We will send an email confirmation that we have delivered your products.
Questions/Contact Us
Email team@giantlifting.com with questions and more accurate timelines, visit our store, or call us at 253-355-3400.
In the event, you would like to return an item or an order, please reach out to team@giantlifting.com. You may return items that are unopened and in new condition within 30 days for store credit or a full refund (Orders over $1,000 will be subject to a 3% credit card processing fee deducted from the total refund).
Bang for the bucks!
Quality 3' x 3' power rack sold locally in PNW. It has everything you need in a garage gym. I wish there are more attachments available at the moment. Would love to add a few storage pins, wall ball target, and barbell holder.
Great rack!
First time buying a new power rack and I love it. It's solid. Great product and easy to assemble! Adam is awesome, great customer service!
Half Rack
Great rack. Would recommend to anyone getting into home gyms. The service is great as well.
Great equipment, great service
They were able to help me find what I wanted, and the equipment is of great quality.
Worth it!
1st of all delivery of in stock items was extremely quick!
The half rack is easy to install and very sturdy! It's the best rack system you could ask for, as far as size/functionality/worth.
The only short fall I had with it was the vertical barbell rack isn't compatible with the half rack.