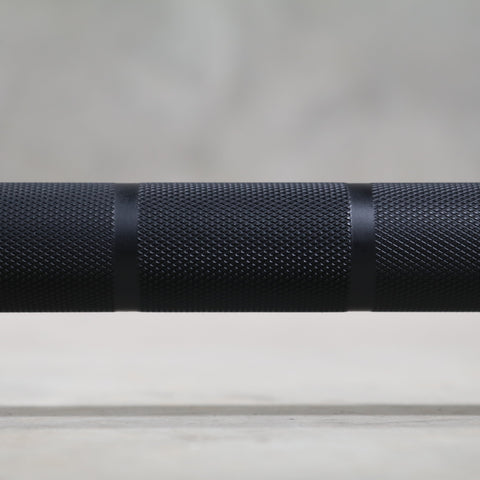 GIANT Hybrid Bar - Black Zinc
Checking availability
PRODUCT DETAILS:


The 28mm Hybrid Bar is Giant Lifting's top of the line multi-purpose barbell. This product is extremely popular among the CrossFit community and features in gyms all over the country. 
Eight needle bearing paired with a two copper bushing system built into each sleeve, this bar spins smoothly, solidifying itself as our best option for any Olympic lifting movements. The diamond knurling pattern has medium depth and is perfect for performing reps without tearing up your hands. 
We lean on the more medium-aggressive side in our knurling because your grip or lack of grip can become a distraction. 190,000 PSI steel shaft allows for whip/bend in the bar, ideal for deadlifts and dynamic movements. 
SPECIFICATIONS
Brand - GIANT
Bar Use - Multi-purpose, Olympic Lifting, Powerlifting
Weight - 20KG/44lbs
Diameter - 28mm
Loadable Sleeve Length - 16"
Bushing/Bearing - 2 bushing, 8 needle bearing
Knurling - Medium-aggressive
Center Knurl - No
Knurl Markings- Dual
Shaft Coating - Black Zinc
Static Rating - 1,500lbs
Tensile Strength - 190,000 PSI
Medium-depth knurling to provide grip without tearing up your hands
Fresh finish for a great look and prevent chipping of the shaft

Dual knurl marks on each side of the barbell 

2 bushing and 8 needle bearing systems to all smooth spin
Frequently asked question
Please allow 3-5 business days for processing orders prior to shipping. Items that are back-ordered and arriving for in-stock pre-orders may take up to 14 days to process and ship. Our "In-Stock" items or items becoming available for pre-order reflect a time frame that we expect to have that product(s) at our warehouse. This time frame does not include shipping estimations. We work diligently to receive and ship as fast as possible and we process our shipments in the order they are received. Our shipping carriers can take between 1-5 days to receive your package. Freight services can take 1-2 weeks.
*Circumstances like weather, holiday schedules, and other situations out of our control can affect this timeline. shipping policy.
Timeframe
Orders are delivered between 5-14 days from your date of purchase.  Generally, we deliver during the first and third week of each month.
Where We Deliver
Delivery will be an option at checkout if it is available to you. Routes are from Seattle to Olympia in general.
Areas on the delivery route include:
Auburn, Bonney Lake, Bothell, Edgewood, Everett, Federal Way, Fife, Issaquah, Kent, Lacey, Lakewood, Lynwood, Marysville, Milton, 
Olympia, Puyallup, Redmond, Renton, Seattle, Sumner, Tacoma.
Pricing
We do a route system with multiple customers with each delivery route to make it cheap for you to receive your equipment. ($39.99-$99.99)
Day of Delivery
For orders over $500: We will send an email 1-3 days in advance and require someone to be present to receive the order. 
For orders under $500: We will send an email confirmation that we have delivered your products.
Questions/Contact Us
Email team@giantlifting.com with questions and more accurate timelines, visit our store, or call us at 253-355-3400.
In the event, you would like to return an item or an order, please reach out to team@giantlifting.com. You may return items that are unopened and in new condition within 30 days for store credit or a full refund (Orders over $1,000 will be subject to a 3% credit card processing fee deducted from the total refund).
Great bar
Absolute 5 star review on this bar. Very well made, great for cycling and looks awesome
Good hybrid
You will not find a decent hybrid bar of same quality in this price range. All around quality is met, hoping for a more aggressive knurl soon enough though
Hybrid bar black.
Barbell is fantastic! Knurling is good for max out heavy lifts but is still not too aggressive for high rep
Bar cycling. My only wish is that it had a GIANT logo in the middle like the other cerakotes as well as have blacked out sleeves ! But that's me being petty. Fantastic bar all around.
Amazing
This bar is dope. Quality knurling and the rotation on it feels great. Best bar for the price after messing around with a few others. Definitely recommend.